Contact Me
I would love to hear from you. Please contact me via phone, email or the form below, thank you.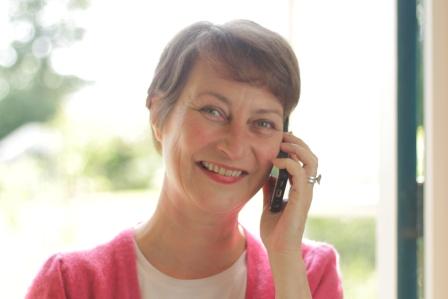 An award winning entrepreneur, Jenny created, set up and ran successful businesses in linen hire, property, music and business advice, becoming an asset millionaire in 2014.
Couple that with 25 years of personal development and Certificates in Coaching, Business Advice, Business Counselling and Training. 
A lifelong passion for motivating people to be successful..
My Story

The question I am always asked.  "Am I a millionaire?" Yes I became an millionaire in 2014. I am more excited by the transformation it takes, than the actual money, or I would have more!
My business career started with The Prince's Trust, a charity supporting young people into business.  I borrowed £3500, aged 23 and set up a business,  hiring out tablecloths for events.  After 7 years, my team and I  won 'Best Customer Service in the UK' award presented by HRH Prince of Wales .
My life changing  moment was during a personal development course.  I realised I could think differently about my business.  My income increased from £80  to £400 a week. (1996)  Soon after I bought my first home in London.
I created my money coaching session to answer all my friends' questions of "how did you do that?" Many of whom are millionaires themselves now.
With personal development tools and simple explanations from a business mentor.  My business grew exponentially.  This is what I show my clients.
I sold my business in 2000 and ran both a property business and music business for a couple of years.  My heart wasn't in it.  I qualified as a business adviser and returned to The Prince's Trust as a paid adviser.  I loved it.  Every day up to 8 clients would come in, with a diverse range of ideas.  Every client I helped complete a business plan, was awarded funding and started their business journey.  In my enthusiasm, I completed 5 years' targets in one year.
Sadly funding ends. I moved to Ludlow, Shropshire, to be in nature and close to family.
Working as freelance business adviser, on contracts from the Job Centre.  I explored Wales and the West Midlands, enjoying the countryside and the people.  Offering money coaching to clients who were struggling with their business.
At this stage, I met husband.  We lived quietly in a secluded cottage for a few years with our dogs, simply enjoying life.
Then I saw people charging thousands for money coaching and I was horrified!

What happened to fairness, ethics and results?
Some coaches do know what they are talking about and get great results, but not all.  Plus who has time to complete a 12 week programme?
I spent a couple of years researching ideas but nothing worked properly. Ouch!  In the end I re-did money coaching on myself, with the help of a friend.
I discovered. I thought I couldn't be happily married AND very successful in business.  Which is obviously not true!
Now I have cleared that attitude and found my business confidence again, I created this website.
I only offer one session, unless you really insist! Clients say it is the thing that made the most difference.
To offer simple solutions that work.
# of countries I lived in
# times a day, I say what I think. Caring? Yes. Tactful? No.
% of time I fail to do my morning stretching.
More Info
Address: 7 Hillside, Ludlow
Shropshire SY8 1RB
Phone: 07956 218744
Business Hours: 10am to 8pm
Evenings and Weekends by Appointment