Speaker Page
"Money and Motivation"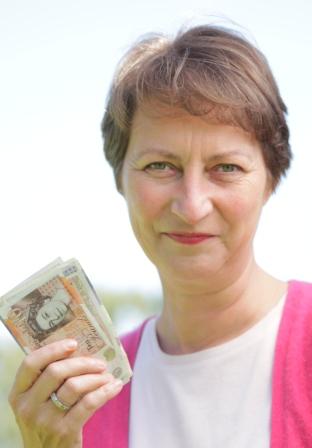 Testimonial
"Jenny Bracelin was the most popular speaker from our Empowering Women Day, with her inspiring and informative 'I explain money' talk.  I look forward to working with her again."
Janet from Inspiring Women
 Contact Jenny for a positive talk or workshop about money.
Money & Motivation
Feel good about money, generally and in your business.
Watch my "How to Get Paid in Advance" video.
I am a transformational coach, no nonsense business adviser and award winning entrepreneur.
Based in Ludlow, Shropshire, UK
Available for Talks, Workshops and Conferences Nationally.
Ideal For
People in business.
Self-Employed, Consultants, Professionals; from Accountants to Complementary Therapists,  Builders to Musicians.
From a 15 minute inspirational talk about all aspects of money to a 2 hour workshop, explaining how to do a  cashflow forecast, which will fulfill your business goals.
I am ethical, enviromental and spiritual and particularly enjoy persuading non traditional business owners to make more money.
Benefits
Feel good about money.  Learn how money works and how you can make it work for you.
Understand your attitudes to money; where they come from and what you can do about them.
Get excited and enthusiatic by traditional business tools; being profitable, getting paid, book-keeping and cashflow forecasts (I call them Plans for Success)
Simple, practical and motivational talks, targeted at money generally, business finances, personal finances or all of the above.
Questions
Past clients include:
The Prince's Trust: Inspirational Talks, Book-keeping and Cashflow Forecasts, How to Start a Business.
Women in Rural Enterprise (WiRE): Business Finances, How to Attract Money.
Inspiring Women: I Explain Money
Shropshire Coaches Group: Essential Sales Skills for Coaches – From Coach to Paid Coach
Ludlow College: All About Money
Talks to the Public: Money Magic, Plan for Success.