Money Coaching
Transformational coaching and general money advice by UK Money Coach, Jenny Bracelin
What did you learn about money? Do you think 4 letter words?!! Or pause, when money is discussed?
Book my simple and easy breakthrough session today.
"I have recouped what I spent 10 times over, HIGHLY RECOMMENDED" Small Business Owner
Explore
Yes! Book Now
My definition is:  "To transport people, from where they are, to where they want to be." Jenny Bracelin
There are a variety of specialists who coach, as opposed to give money advice: Wealth Coaching, Financial Coaching, Prosperity Coaching, Mindset Mentoring – all with the aim of making you richer – for a price!
Whatever you choose, requires your time and effort, as well as money.
With 20 year's experience, I make it as easy as possible because I do it with you. 
No more wondering, does that apply to me?
"Jenny's ability to get to the nitty gritty of a person is amazing. You have pointed things out to me that I was totally oblivious to!!" Author
Do you think 4 letter words?!! Or pause, when money is discussed?  Maybe you have a nagging doubt about one aspect of money?
It doesn't have to be this way!
Grow and get the business. Successfully negotiate pay increases. Stop underselling yourself! Benefit from money advice and tips.
You can enjoy or at least be confident managing your money.

I ask you 5 short questions.
Then we create a new positive belief together.
I do it with you, making it simple and easy.
This one off breakthrough session provides:
Relief
Answers
Money (most clients make or save 10 times my fee)
Boosts your confidence
Opportunities follow.
Money Advice
I am happy to answer general money and business related questions at the end of the session. (Not a financial adviser and I won't sell to you.)
Most clients say this session is the turning point for them and their money.
"The difference just one session has made to how I feel about money, and the new money coming into my business has been phenomenal.
Thank You for all your patience and skill.
I have recouped what I spent 10 times over.
HIGHLY RECOMMENDED !"
Kerry, Director
Key2Cuba.com
"Since my money coaching I have put up my prices, stopped working for free, have confidence that my time is worth so much more!! Huge progress."
Jenny's one session money coaching is phenomenal. She listens and quickly gets to the crux of your core money beliefs, this opens up a discussion that is life changing.
Things then click into place and the self-imposed barriers become obvious and together you create an action plan to eliminate them.
Jenny gave me an insight and clarity that has left me feeling positive and empowered about the future.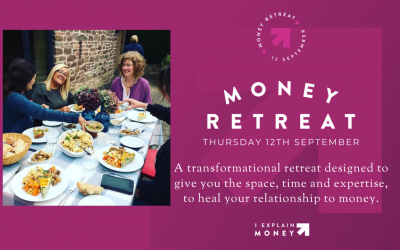 "Wows" from everyone, is a wonderful way to start a day. Find out what happens on a Money Retreat, from identifying your money style to sound baths.
read more